FULL ADVENTURE TOUR
Our #1 and Most Popular Tour

Biggest Tour in Wisconsin

13 Zip Lines!
Our flagship tour! The biggest in all of Wisconsin and possibly the entire Midwest! With 13 ziplines, 5 adventure bridges, and 14 aerial trekking elements, this tour has it all! If you're looking for a world class experience that you won't forget, this is the tour for you!
HIGHLIGHTS
13 Zip Lines + 5 Bridge + 14 Aerial Elements

2 Zip Lines Over a Wilderness Lake

Side-By-Side Dual Race Zip Line

Rappel + Cargo Net Climb

3.5 Hours of Adventure & Fun

Experienced & Expertly Trained Guides
TRIP DETAILS
Season:

Available year round Reservations required

Price:

Sunday - Wednesday: $179 per person Thursday - Saturday: $189 per person

Time:

Tours leave daily from 9:00am. Please see above for specific availability.

Duration:

3.5 hours

Meeting Point:

Northwoods Zip Line Adventure Tours Clubhouse
Please arrive 30 minutes prior to your scheduled time.

Included:

Helmet • Gloves • All Gear & Equipment • Water • Sunblock • Bug Spray • 2 Awesome Tour Guides!

Not Included:

Taxes & Gratuities

Group Size:

8 people + 2 guides. Please contact us for large groups.

Safety:

This tour is ages 7 and up only! Before going out on the course you will get a full safety briefing from our experienced team. You will also have a chance to do a practice line.

Footwear:

Closed-toe shoes are required.

What to Wear:

Dress for the weather. For more information please see our FAQ page.

Participation Requirements:

Children must be at least 7 years old. For more information please see our FAQ page.
WHAT TO EXPECT
You can expect a zip lining experience like no other! We are proud to offer the biggest and best zip-line tour in the region! This tour has 13 ziplines, a host of fun and challenging trekking elements, and five adventure bridges! Our course is built tree to tree meaning minimal time on the ground and little need for stairs!
This course includes two zips over our stunning wilderness lake. The first, 100ft above the surface of the water at it's highest point, is our longest line of the day, providing a stunning overlook! The second brings you in low, skimming mere feet above the pristine waters.
Our aerial trekking elements are expertly designed to provide a fun challenge for all ages. Each element can be crossed in a variety of ways decrease or enhance the difficulty depending on what you desire. Our guides stand ready to advise you on the best techniques and assist you if necessary.
The full adventure experience finishes on our dual race line, on which you can either race a fellow group member or attempt tricks, bringing your adventure to a close in a spectacular fashion.
BEFORE YOU BEGIN YOUR ADVENTURE
Please arrive to our clubhouse 30 minutes before your booking. Here you will be greeted by your guides, checked in and geared up for your trip.
TIME FOR A QUICK PRACTICE
After your safety briefing we will get you geared up with your helmet, gloves and harness. Once you're all set, you'll have a chance to practice on our training line and ask any questions you may have.
OUT INTO THE WILD
After a quick practice, you'll be guided to the first zip line. This zip line is the least difficult and will help you feel confident and comfortable on the exciting upcoming zips. The guides will be there to assist you every step of the way.
AN EXPERIENCE LIKE NO OTHER
We guarantee you'll enjoy your full adventure tour! As you zip and trek through the trees, keep your eyes peeled for wildlife — deer, eagles, turkeys, turtles and more are spotted on a regular basis. On course, we have three water stops to keep you hydrated. Our amazing guides will keep you safe and entertained throughout the whole tour!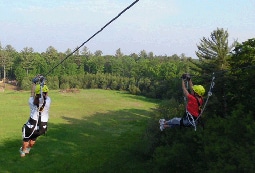 THE FINAL ZIP DOWN
Your final zip will be a side-by-side dual zip where you'll be able to race your partner. By the time you reach this zip, you might be feeling brave enough to go upside down or spin yourself around — make sure to ask your tour guides before you take on this epic zip!
100% SAFETY RECORD
Your safety is our number one concern. We do everything in our power to minimize any risks associated with our tours and pride ourselves on our 100% safety record. All our guides are required to complete continuing education and periodic re-certification. We only use top of the range equipment and our zip line course meets and exceeds the standards of the Association for Challenge Course Technologies (ACCT). We inspect our course and equipment daily before any visitors go out on our tours.